Camel trekking in Morocco is one of the most unforgettable experiences, you may have during your visit to the country.
It is a must-do activity when visiting the Sahara desert, one of Morocco's most well-known tourist attractions. You'll be travelling on camels across a sea of sand, taking in the sunrise and sunset above the tallest dunes, and spending one or more nights in a desert camp or with a nomad family. Into get a glimpse into their way of life and routine.
If you have enough time in the desert. You can go camel riding, go on a multi-day desert walk while staying at an oasis. Then go wild camping in the middle of the desert, and more. You can spend one or two nights in a wild, and standard or luxurious tent. Including a private bathroom if you sign up for a quick camel tour.
Although some travelers may not find riding camels. Crossing the sand to be the most enjoyable means of transportation. Thus it is undoubtedly a "must" for any visitor who wants to experience the nomadic way of life.
Here in this article, we will try to give you an ultimate guide to camel trekking in Morocco. Starting from the techniques used to ride a camel, then to the best activities you can do during your trip in the Moroccan Sahara.
So, let's get into details,
How to ride a camel?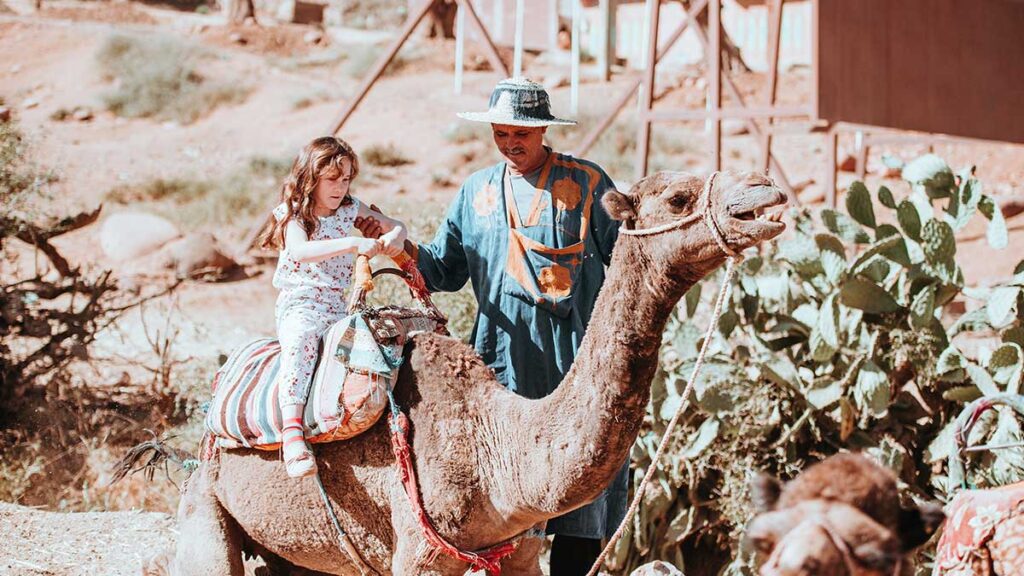 Before hopping on a camel, it's important to understand that they have rough skin and very coarse hair. This means that before embarking on a camel journey in Morocco, you must be well dressed. We're mostly concerned about your legs and feet, so to protect yourself, we advise that you wear something, like jeans or khakis rather than shorts, a skirt, or a dress. Apply sunscreen to exposed parts, like your face and hands and wear a hat, sunglasses, and scarf to block out any sand that the wind may blow in.
When embarking on camel treks in Morocco, it is advisable to wear sturdy hiking or walking boots or shoes rather of the more touristy flip-flops. It really won't do you any favors out in the Sahara Desert, and when getting up on and trying to stay on a camel.

It can be a little unsteady riding a camel, especially when they start to stand up. It's normal to feel a little uneasy that you might fall off, and to worry about how you're going to keep in place when the tall creature begins to move. When your camel starts to rise while you're on board, which it does with its back legs first, the idea is to lean backwards before moving forward as it raises itself on its front legs. The best course of action is to simply go with it, and wobble around while holding on to your saddle at all times. The unsteady stride takes some getting used to, so the best thing to do is just go with it.
What is the best place to ride a camel in Morocco?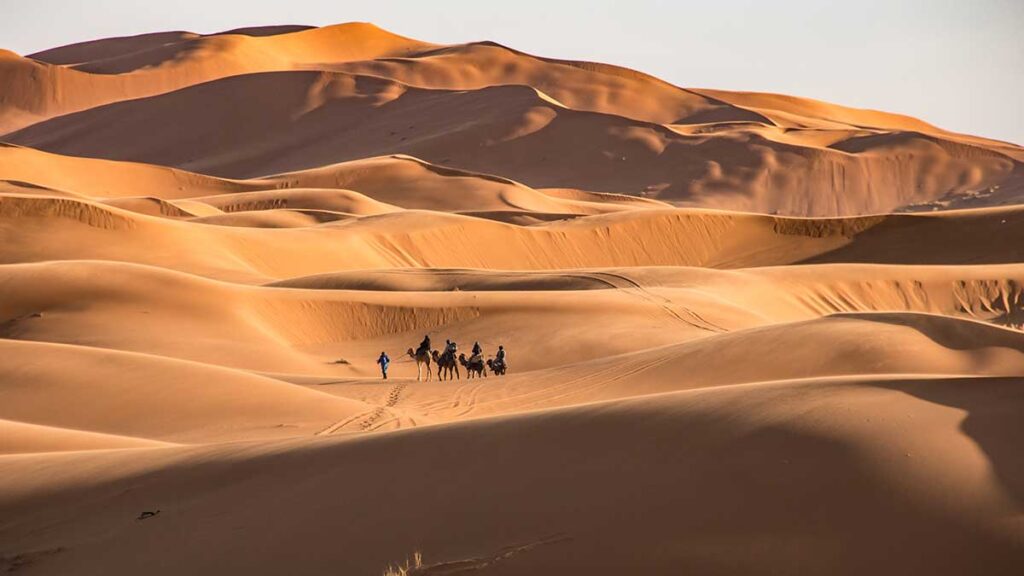 Although there are camel trekking trips offered throughout Morocco, Merzouga Erg Chebbi to be exact is the most well-liked location. Erg Chebbi dunes are one of Morocco's highest dunes. Plus are also known as the "golden dunes" due to their golden tint.
The Erg Chebbi dunes are located in the Merzouga region, around 40 kilometres from Erfoud.
Over a terrain that stretches around 28 kilometres from north to south, the Erg Chebbi dunes reach heights of up to 150 meters. When tourists want to ride a camel in Morocco, this is one of the top places they go. In Erg Chebbi, you can find both luxurious and standard desert camps.
In case you reserved a hotel in Merzouga, the ride begins shortly before dark since it only takes 30 minutes to travel by camel to the Erg Chebbi dunes. However, we think that it is preferable to opt for a desert camp in Erg Chebbi, so that you get the most out of your camel journey.
Not mentioning the different amazing activities that you will be offered. In Erg Chebbi, you will have the opportunity to enjoy a camel ride over the Erg Chebbi dunes, as well as a broad view of the desert. Also, you will have The opportunity to enjoy viewing the sunset from the top of a dune and taking in the wonder of sleeping beneath, a starry sky is what makes this experience more exciting.
Erg Chebbi is one of the best places, if not the best, to enjoy camel trekking in Morocco.
Why choose a luxury desert camp?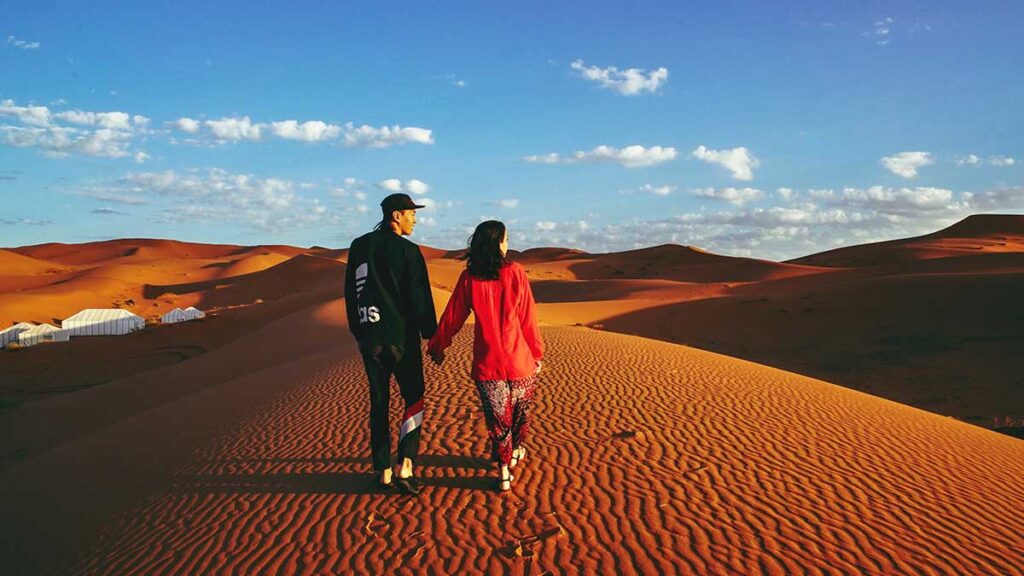 There are many reasons why you should choose a luxury desert camp, to get the best out of your camel trekking in Morocco. Some of these reasons are :
Luxury tents are larger and have king-size beds, as well as sophisticated furniture and fixtures.
Larger tents in luxury campgrounds have their restrooms and showers. In other words, your tent will have a toilet, sink, and shower.
Luxury campers provide a range of relaxation places, close to the camp. It including recliners, salons, and sun loungers. They usually have dining facilities, and some of them might even have kitchens.

These are just a few of the many features luxury desert camps, which is offer during your stay in the camp.
Concerning outdoor activities luxury camps offer, there are many. By a way of an example, I may share with you the activities, that are offered by a luxury camp in Erg Chebbi in Merzouga.
Camel ride in Morocco
The Sahara desert's Merzouga camel ride begins just before sunset, usually at around 5:30 p.m. However, it may start later depending on the season. It takes approximately 30 minutes to ride a camel to the Erg Chebbi dunes.
At the base of the tallest dune in the Merzouga desert, which is only 80 meters away. Thus you will dismount your camels, so that you can climb to the top and observe the sunset from there. For those who want to get a panoramic view of the desert, it will take around 10 minutes to climb to the top of the dune.
4X4 tours
You travel to the little communities of Erg Chebbi, Merzouga, and Khamlia during this journey. As you are welcomed and offered a cup of peppermint tea, you will get the chance to listen to their calm Gnawa music.
After leaving Khamlia, make a halt to see the vast splendor of the golden dunes, that near the Algerian border. You'll visit a nomadic family whose livelihood depends on caring for herds of cows, goats, and camels. As you sip a great cup of tea, you'll get to know the family members and discover more about their way of life.
Sand-boarding
Sandboarding is a sport that is practiced on the fine sand of the desert, much like snowboarding. Instead of taking place in snow-capped mountains, it is a leisure activity that occurs on dunes. This tabla sport has followers all over the world, and is frequently performed on dunes in desert or coastal areas.
A snowboard is necessary, even if some people manage it without putting themselves through the table. While placed on the board with both feet attached, you just slide down a dune. In part, because it would be extremely challenging to put in a funicular there. Furthermore it is less well-liked than snowboarding, because you have to climb a dune on foot to go back to the top.